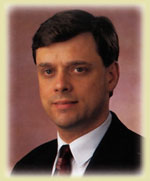 As founder of HILL ARCHITECTS, Mr. Hill oversees the master-planning and architectural design of all major projects undertaken by the firm. During his 30 years of experience, he has focused on private sector development projects and has developed extensive expertise in the master-planning and design of residential, mixed-use, commercial, destination resort, and senior living projects.
Mr. Hill received his architectural education at Cornell University and the Harvard Graduate School of Design. His studies included special emphasis in structural engineering and computer applications as well as pioneering research in computer-aided design. At Harvard, he spearheaded a multi-disciplinary team which contributed to the establishment of the Lowell Massachusetts National Historic Park.
In 1979, Mr. Hill began his professional career with the Boston architectural firm of Jung/Brannen Associates. Assuming both project design and management responsibilities, he gained experience on a range of projects including an award-winning restoration of an historic Boston landmark, several high-rise office towers, a symphony concert hall, and numerous corporate headquarters and speculative office developments. Several of these projects were undertaken in joint venture with Pietro Belluschi, one of the most influential and respected architects of the twentieth century.
In 1984, Mr. Hill joined The Architects Collaborative, an internationally recognized architectural firm headquartered in Cambridge, Massachusetts. TAC was established by Walter Gropius, one of the founders of the 1930's Bauhaus Movement and a "giant" of Modern Architecture. Mr. Hill's responsibilities at TAC included both design and project management for several projects including a resort hotel/conference center, a mixed-use commercial and residential development, and a university administration building. In 1986, Mr. Hill joined the San Francisco firm of Hornberger Worstell and Associates. Mr. Hills responsibilities with HWA included primary design and management responsibilities for numerous projects including low-rise, mid-rise and high-rise office buildings, business/convention hotels, mixed-use developments, senior living projects, and destination resorts. In 1992 Mr. Hill left HWA to form HILL ARCHITECTS.
Mr. Hill has participated in numerous award-winning projects. He has lectured on "The Architect's Role in Development", and has instructed and served as a guest critic for architectural design courses. He was the recipient of Cornell University's Baird Prize for Architectural Design. He is a registered architect certified by the National Council of Architectural Registration Boards, licensed in seventeen states and British Columbia, and is an active member of the American Institute of Architects.